Artikel ini sudah diupdate ke https://www.proweb.co.id/articles/email-service/ssl-seting-thunderbird.html .
Mozilla Thinderbird ada program email client yang banyak dipakai pengguna internet. Keistimewaan dai program ini adalah multiplatform, bisa dipakai di sistem operasi Microsoft Windows, Linux maupun Mac. Berikut akan dijelaskan setting emai di Microsft Windows, untuk sistem operasi lain akan kurang lebih juga seperti ini
Pertama-tama kita masuk ke Command Line

Kemudian masuk ke directory Thunderbird dan jalankan Profile Manager seperti contoh berikut:
C:\Documents and Settings\Aris>cd \
C:\>cd "Program Files"
C:\Program Files>cd "Mozilla Thunderbird"
C:\Program Files\Mozilla Thunderbird>thunderbird.exe –profileManager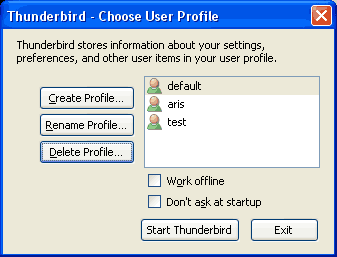 Pilihlah Create Profile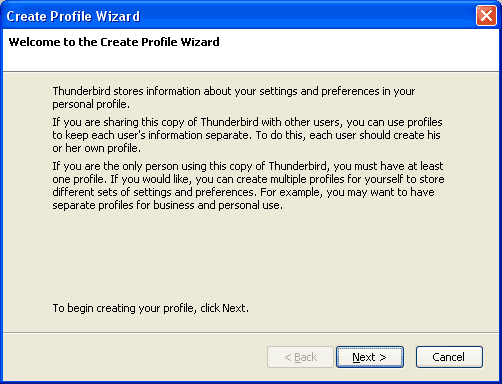 Pilih Next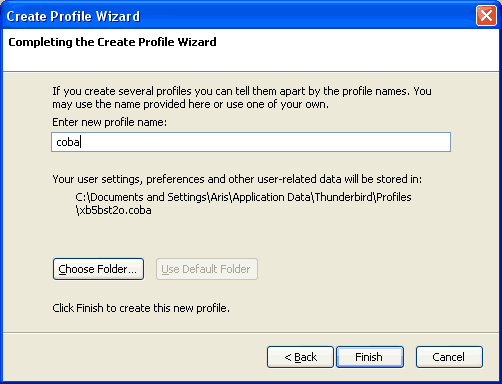 Profile Coba silahkan diisi dengan nama Anda, kemudian pilih Choose Folder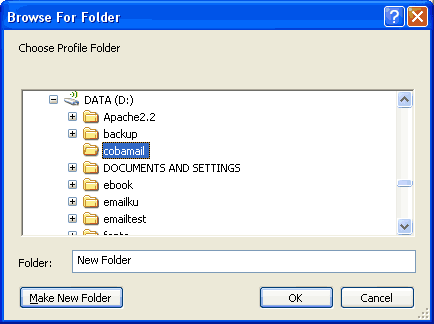 Pilihlah directory pada partisi data yang akan dipakai untuk menyimpan data email anda.
Directory ini dianjurkan dibackup untuk kepentingan backup recovery.

Terlihat ada pemberitahuan semua data dan setting akan disimpan di folder yang baru saja Anda pilih, kemudian pilih Finish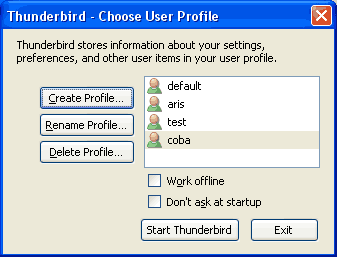 Pilih account yang baru saja anda create, dalam contoh ini Coba


Isikan sesuai informasi email anda dan pilik Continue

Pada tampilan ini akan terjadi proses auto detec, klik Stop,  kemudian isikan sesuai dengan server anda.
Secara umum setting port untuk SMTP adalah 25, khusus client Proweb dianjurkan memakai port 26 karena ada beberapa ISP yang memblok port 25. Setelah itu lakukan Re-test Configuration.

Langkah selanjutnya pilih Create Account

Akan ada sedikit warning, aktifkan 'I understand the risks' kemudian pilih Create Account


Setting sudah selesai, anda bisa mengetes mengirim dan menerima email.
Kunjungi www.proweb.co.id untuk menambah wawasan anda.
Setting email di Mozilla Thunderbird 3