Untuk dapat mengetahui dengan baik control panel dari DirectAdmin ini maka ada baiknya kita mengenal setting-setting penting dari server ini. Untuk mengetahu Admin Settings pada DirectAdmin ini kita dapat masuk ke menu Server Manager – Administrator Settings seperti gambar di bawah ini: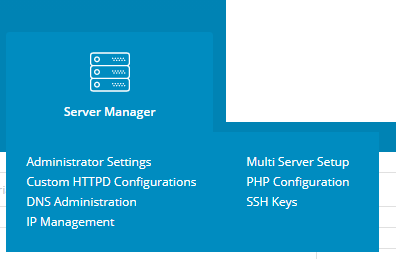 Setelah kita masuk ke menu Administrator Settings maka kita akan mendapatkan tab-tab seperti berikut ini
Administrator Settings:

Pada tab Administrator Settings ini kita akan melakukan setting-setting
– Notify all admins whenever a service goes down using the messaging/ticket system
– Overselling: Allow Resellers to sell More features than they are allowed
– Suspend a Reseller and their Users when the Reseller goes over Bandwidth limit
– Allow a Reseller to Backup/Restore their Users (Separate from User Backup/Restore)
– Allow the lastest version of DirectAdmin to be pushed to this server, as needed
– Enable User Demo
– Enable Reseller Demo
– Enable Admin Demo
– Allow Users to create Backups

Server Settings

Pada tab Server Settings ini kita akan melakukan seting-seting pada
– Server's Hostname
– NS1 dan NS2
– Timeout dan Session Timeout
– Max Request / Upload Size
– Keep Number of Apache Log Backups
– Document Root to Demo Skin
– Warn Admin at partition usage
– Check usage period
– Timezone
– Max Username Length

Security Settings

Pada tab Security Settings ini kita akan melakukan setting-seting pada
– Enable Automatic Lost Password Recovery
– Blacklist IP for excessive DA login attempts
– Prevent 127.0.0.1 from being Blacklisted
– Time before failed login count resets
– Remove an IP from the blacklist period
– Parse service logs for brute force attacks
– Notify Admin from login failures
– Remove an IP from the BF blacklist
– Reset count of IP/User failed attempts
– Clear failed login attemps period
– Scan for WordPress attacks
– Difficults Password Enforcement
– Check domain owner for subdomain creation

Email Settings

Pada tab Email Settings ini kita akan melakukan seting-seting pada
– Daily Email limit per DirectAdmin Account
– Daily limit per Email Account
– User can set limit per Email
– Max limit User can set per Email
– Use RBL Blocking
– Purge Spambox/Trash data period
Informasi lebih lanjut silahkan mengunjungi https://www.site-helper.com/evo/asettings.php .
Kunjungi www.proweb.co.id untuk menambah wawasan anda.
Administrator Setting pada DirectAdmin